Wisdom teeth, also known as 3rd molars, grow at the very back of your jaw.
They are the last of your teeth to erupt in your mouth. If you are experiencing pain or soreness in the back corners of your mouth, it is highly likely that your wisdom tooth is about to make an appearance.
Impacted Wisdom Teeth
Dental pain can be due to problems relating to having impacted wisdom teeth, which could mean that:
the tooth does not grow in the ideal upwards direction,
the tooth may not have enough space to break through the bone and gums completely,
the tooth grows out at an angle and pushes into the neighbouring teeth.
This can cause food to get stuck as it is harder to clean, increasing chances of tooth decay and developing gum disease.
There is a higher chance of the lower wisdom tooth being impacted compared to the upper wisdom teeth. Upper wisdom tooth are also usually easier to remove.
When Should I Remove My Wisdom Tooth?
If you feel discomfort, it is advisable to go to the dentist for a dental checkup early to prevent further problems such as decay on the wisdom tooth and its surrounding teeth.
Problems such as pericoronitis (inflammation of the gum tissue associated with an impacted tooth) and abscess formation may also occur. It is also better to remove an impacted tooth at a younger age as younger people tend to recover faster and have less risks in a surgical procedure.
There are 2 Types of Wisdom Tooth Removal Methods: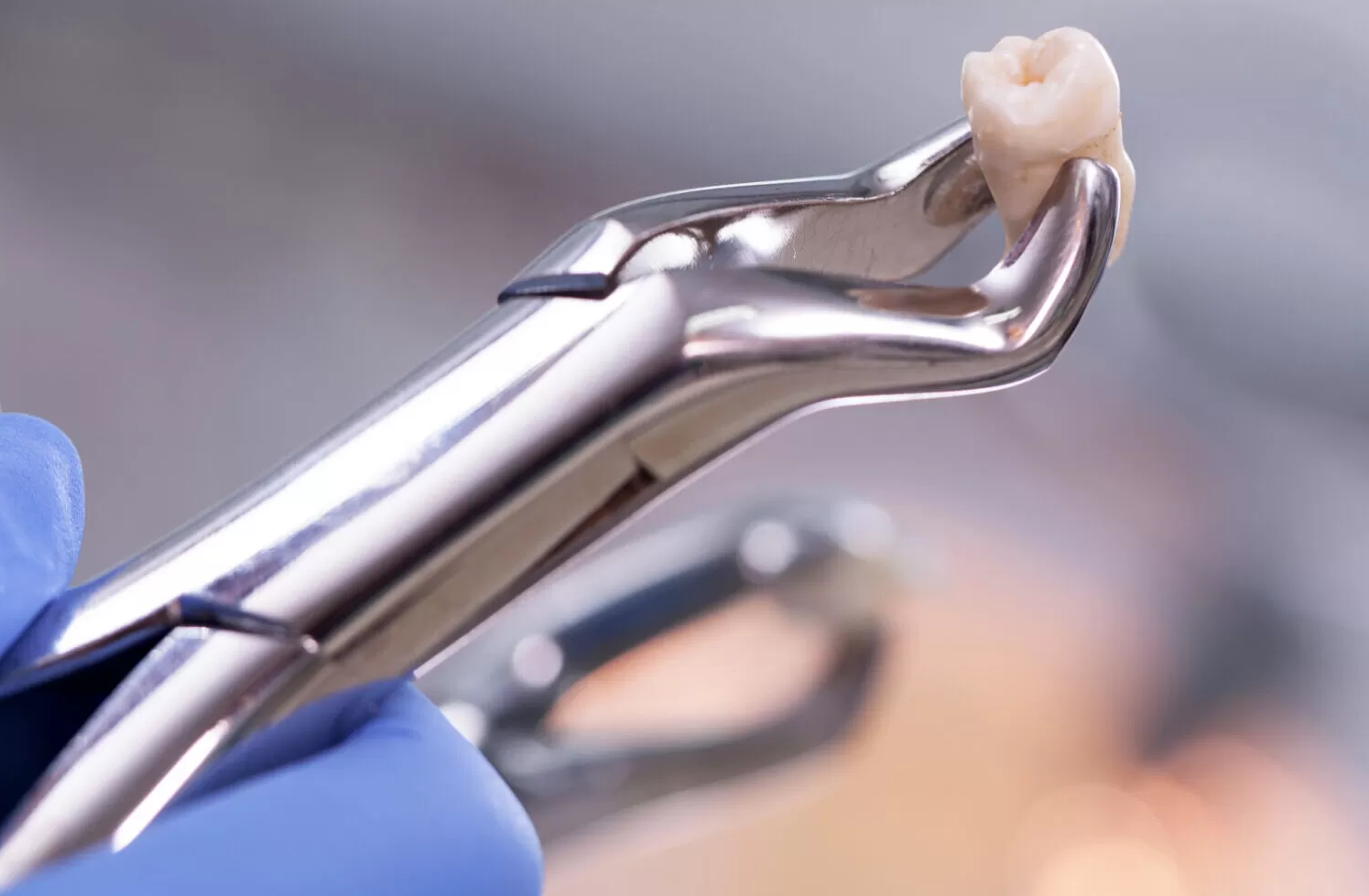 A simple extraction is performed when your tooth is fully erupted. For this extraction procedure, the dentist will inject a numbing agent, also known as local anesthetic, to ensure a pain free treatment. When you feel numbed up, the dentist will then use instruments to loosen and remove your tooth.
Surgical extraction is also known as wisdom tooth surgery. It is more complicated and is performed when the tooth is impacted, under the gums or partially erupted. A gum incision, and at times, followed by bone removal and tooth division will be required to surgically expose and remove the submerged tooth before stitching the gum back.
For this extraction procedure, the dentist will provide local anesthesia for numbing too. For patients who are anxious, hospitals and some private clinics do offer sedation or even general anesthesia (GA). Sedation helps you to relax whereas for GA, you will be unconscious for the treatment.
Where to Get a Wisdom Tooth Extraction in Singapore?
You can opt for extractions at a government institution such as public hospitals or polyclinics, or at private dental clinics. The biggest difference between the two comes down to waiting time and cost.
Government institutions tend to have longer wait times but may be cheaper.
There are 2 forms of government clinics in Singapore: public hospitals (such as Khoo Teck Puat Hospital, Tan Tock Seng Hospital and National Dental Centre) and polyclinics.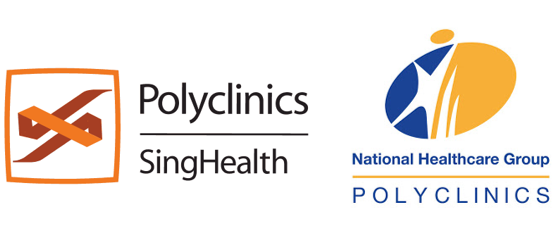 Polyclinics are largely scattered around so it is more geographically convenient. In Singapore, polyclinics are managed by SingHealth or National Healthcare Group (NHG).
Polyclinics generally charge $25 to $40 per tooth for simple wisdom tooth extractions, excluding the consultation fees. It may take from weeks to months to secure an appointment depending on the location. They also refer complex extractions or wisdom tooth surgery to hospitals. Certain polyclinics under NHG also require an $8 deposit.
A government dental hospital may have a wait time of about 4 months or more. They also charge more for extractions and wisdom tooth surgery can cost from a few hundred to thousands of dollars per tooth.
To see a specialist (such as an oral maxillofacial surgeon) in the government hospital, you are required to go to a polyclinic and obtain a referral letter only if you want subsidy. Direct appointments can be made, however, private rates will apply.
A private clinic may be more expensive, but tend to have shorter waiting times.
Most private dental clinics are available for appointments in a few days' notice. Prices charged may be higher and costs vary across different private practice.
However, for clinics which are Medisave and CHAS accredited, their services can be relatively affordable too.
How Much Does a Wisdom Tooth Extraction Cost?
Extraction procedure can cost from $25 to hundreds per tooth, whereas a wisdom tooth surgery can cost over a thousand of dollars per tooth.
Ultimately, this comes down to how complex the removal will be. The following factors may play a part:
Surgery vs simple extraction
Wisdom tooth surgery is more complex than a simple extraction.
Submerged or erupted tooth
Submerged teeth (under the gum) are harder to extract compared to erupted teeth as your dentist needs to drill into the gums to remove it.
How close is the tooth to the nerves?
Impacted teeth lies closer to the nerves underneath. Therefore, more care must be taken to remove the tooth so nerve damage can be avoided.
Teeth with an irregular root shape are much harder to extract.
Oral maxillofacial surgeon (OMFS) specialist
An OMFS specialist is trained to perform complex surgery. Your local dentist will refer you to a specialist if your case is too complex.
The more complex a case is, the more it would cost.
Wisdom Tooth Pricing Breakdown
In Ocean Dental, our prices for wisdom tooth removal per tooth are as follows:

Medisave for Wisdom Tooth Surgery
When can you use Medisave for wisdom tooth removal?
In dentistry, Medisave claim can only be used to pay for surgical procedures such as wisdom tooth surgery (NOT simple extractions), fractured retained root removals which require surgical removal and dental implants. When undergoing a wisdom tooth surgery, you can opt to pay a partial cost via Medisave claims.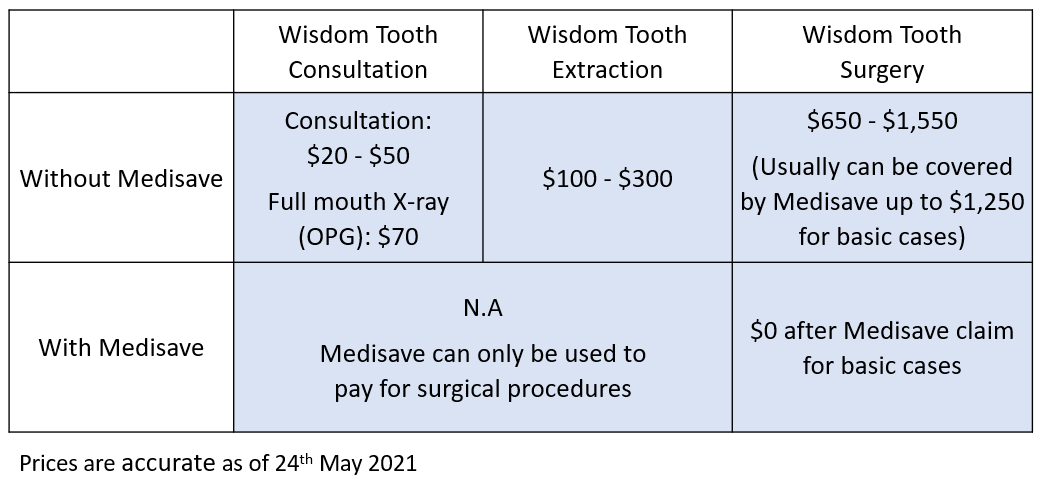 How to Make a Medisave Claim For a Wisdom Tooth Extraction?
When you have decided to go forward with a surgical extraction, the dental clinic will prepare a Medisave claim form for you to sign before the surgery. For this, you will need to show your Singaporean Identity Card. After that, the clinic will submit the Medisave claim on the portal and the following amount will be deducted from your Medisave account.
You can use your own Medisave account or your approved dependents' (eg. parents, spouse, children, siblings) account.
For patients with sufficient balance in their Medisave account:
You are only required to top-up the difference between the total amount for surgery and your Medisave claimable amount. For this option, there must be sufficient funds in your Medisave account the claim to be successful.
For example:

You must have $1,250 in your Medisave account. The amount you would have to pay upfront will be $50 ($1,300 – $1,250).
For patients with insufficient balance in their Medisave account:
If you have less than the amount claimable in your Medisave account, you will be required to pay the total sum of the surgery upfront first.
For example, if the surgery costs $1,250 but your Medisave account only has $500, you are required to pay the $1,250 upfront. The clinic will then process the claim and once the $500 is claimed from your Medisave account, the clinic will issue a cheque refund of $500 back to the account holder.
If there is insufficient funds in your Medisave account, you may also opt to have a second Medisave payer, provided the second payer is an approved dependent.
How Much Can I Claim From Medisave?
The Medisave claimable amount depends on how many teeth are going to be removed and how complex the case is. The complexity is judged by whether tooth division or bone removal is needed.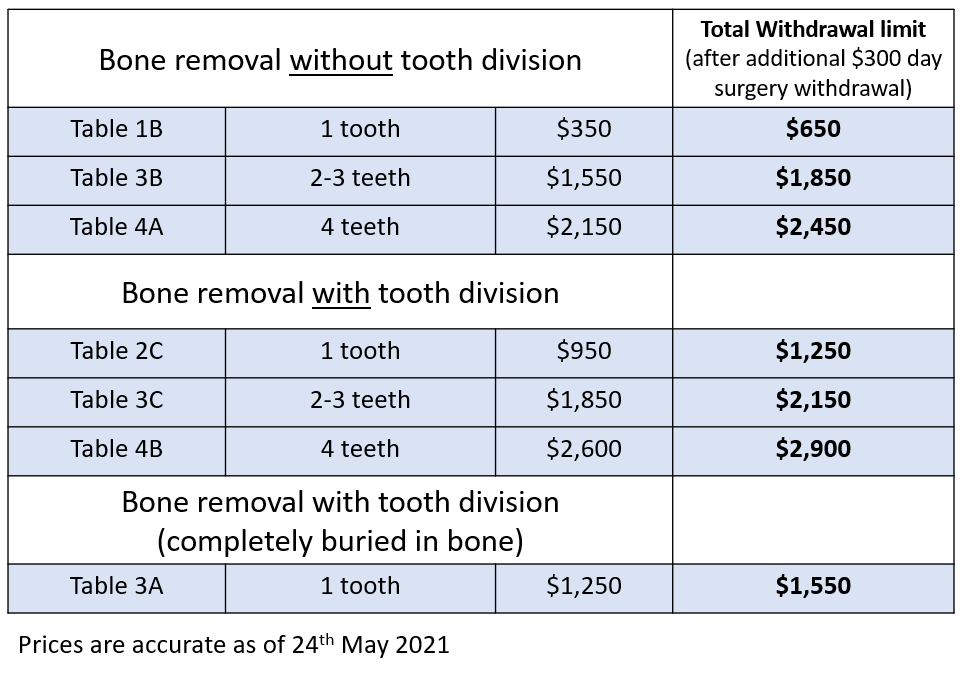 Community Health Assist Scheme (CHAS)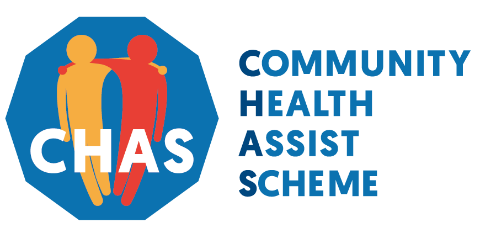 CHAS is a scheme designed to subsidize medical or dental costs for lower and middle income groups. Subsidies for simple extractions are only eligible for the CHAS blue cardholders.
Merdeka Generation and Pioneer Generation

Merdeka Generation subsidies are for Singaporean citizens born in 1950 to 1959 and Pioneer Generation subsidies are for those born in 1949 and before.

The subsidies offered are only eligible for simple extractions. The amount of subsidies depends if it's a front or back tooth, subjected to a limit of 4 subsidies per calendar year.
Clinics and hospitals participating in the scheme will display a sticker. You would only have to show your CHAS card to utilise the subsidy provided and enjoy a partial cost for the procedure.
Aftercare
After the extraction or surgery procedure, you may experience minor bleeding at the site. Good news is that this is completely normal and can be easily stopped by biting tight onto a piece of sterile gauze. For surgical cases, pain medicine, antibiotics, and an antibacterial mouthwash are usually prescribed to help you cope better. An iced pack will be given to you immediately to minimize facial swelling.
You will be given 1-2 days of medical leave for simple extraction, and 5-7 days for surgery. A follow-up appointment will be arranged for you to come back around 1-2 weeks later for review.
During this period, here are some things to avoid which will help in the healing process:
Sucking through a straw
Spitting
Excessive mouth rinsing
Smoking
Strenuous activities
Hot/ hard food
Blood clot will form in the tooth socket to speed up the healing process. These activities above may cause the newly formed blood clot to dislodge, resulting in dry socket which can cause pain and discomfort.
If you are feeling pain or discomfort in your jaw, it may be your wisdom tooth erupting. If you are unsure, please make an appointment with your dentist so your dental problems could be addressed accordingly. Our dentists at Ocean Dental will discuss the appropriate dental procedures to help you achieve the best oral hygiene and health.
At Ocean Dental, we have a regular visiting oral surgeon specialist coming in every month for more complex surgery cases. We also have dental X-ray machines for panoramic X-ray (OPG) and CBCT (for 3D scans). We aim for every step to be done within our clinic for your own comfort and convenience.
Find out more about our wisdom tooth extraction and removal services!